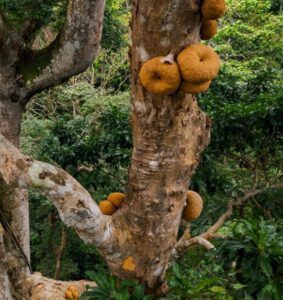 The other day I grabbed a National Geographic in a waiting room. This picture from Gabon's Lopé National Park, made by Jasper Doest grabbed my attention right away.
The doughnut-shaped fruit of the Omphalocarpum procerum grows on its branches and trunk, which is common for rainforest trees. Scientists believe it's an adaptation to promote pollination by insects, such as ants, found in the trees.
I saw right away the resemblance with the doughnut shaped wall objects which I am making right now from re-claimed wood.
Nature gives me so much inspiration because of it's natural beauty! What a present!